Updated: November 24, 2023 by admin
Dua to Solve any problems: Everyone in this world is facing problems in life, and these problems are either family problems or business problems. There are many problems in their lives, but in this article, we will tell you the most powerful and best Dua to solve any problems in Islam.
With the help of this Dua in Islam, you can solve any problem in your life. Just read our post carefully and find a way to use our Islamic dua. In Sha Allah, with the help of the Almighty Allah, you will know that dua will ease your problems.
We all know we are in the Dunya, and if we don't have problems in our lives, then that means we are not human beings. As we have grown up, our life's problems have also grown with us.
Children enjoy their lives, but the older ones live theirs in pain. But now, after reading this article, all your problems should be solved because we will provide you with the best dua to solve problems and dua to overcome difficulties.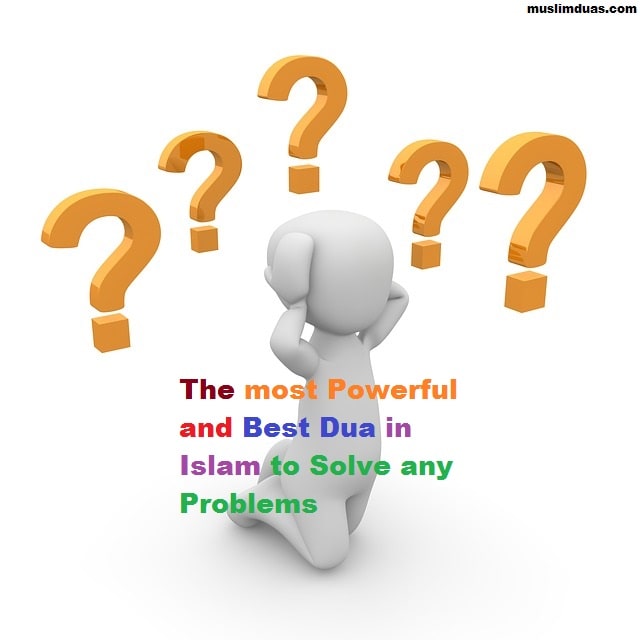 Common Dua to Solve All Kind of Life Problems
We all know that if we face any problems in our lives, we also have the weapons to solve those problems. The weapon names are Dua, Wazifa, Taweez, Kala Jadu, and Istikhara.
With the help of these weapons, we can solve any type of problem that we are facing right now. It doesn't matter how large our problems are; if we have trust in Allah and make duas continuously, then all our problems should be solved.
These duas, wazifa, taweez, and istikhara are the weapons that our Almighty Allah has given us and told us to use. To use these weapons, you should be aware of the use of common dua to solve all kinds of problems.
We will not tell you about wazifa, taweez, and istikhara. We'll only tell you the powerful duas for all problems that will help you solve the problems in your life. This is the most effective and powerful best Dua in Islam, which helps solve any problems.
Also Read: Dua e Qunoot for Witr Prayer along with Translation.
Powerful Dua to get what you want
It is not only problem-solving dua but also offers powerful dua to get what you want or what you want to achieve. The most powerful Dua to get what you want is given below:
The first dua to solve problems in 7 days
"Iz Nadaa Rabbahuu Anni Mssaniyaa Ashaitanuu Binusbiwa Azaab"
Second dua for solving problems
"La Ilahaa Illaa Antaa Subhanakaa Inni Kuntuu Minazwalimeen"
Third
"Yaa Hayyu Yaa Qayoomuu Birahmatikaa Astaagees"
After that, my brothers and sisters, you must also recite all the Namaz in a day.
Dua to solve problem immediately
In Islam, making Dua (supplication) to Allah is seen as a way to ask for help and guidance. Here is a Dua that is often recommended for solving problems:
"Rabbi innee limaa anzalta ilayya min khayrin faqeerun" Translation: "My Lord, I am in need of whatever good You may send down to me." (Qur'an 28:24)
It is important to remember that dua should be accompanied by efforts to resolve the problem as well as trust and patience in Allah's plan. Also, it is recommended to do good things, follow the teachings of Islam, and have a positive attitude and mind.
Dua for problems
Here is a Dua (prayer) that can be recited to seek relief from problems:
"Rabbi inni lima anzalta illayya min khayrin faqeer"
Translation: "O my Lord, I am in absolute need of the good that You send to me."
This Dua is a request to Allah (God) to provide His blessings and help in overcoming any problems or difficulties that one may be facing. It is a reminder of our dependence on Allah and our faith that He will provide the necessary guidance and support to overcome our problems. Reciting this Dua with sincerity and conviction can bring comfort and relief during challenging times.
Articles According To Your Taste
Conclusion
So, my brothers and sisters, in this article, I told you everything about the dua for any problem in English which is also a dua to solve all problems. I hope you enjoy reading this article. If yes, please share it with others, and if you have faced any problems, then put your query in the comment section. I will reach you as soon as possible.