Updated: October 9, 2023 by admin
Ya Wadoodo For Love: There are many names of Allah, and "YA WADOODO" is one of them. The meaning of "YA WADOODO" is a loving one, and you will know the meaning of this below. We all know that no one can love more than the entire world except Allah (SWT). There are many benefits to reciting this name continuously after every namaz. But mostly, it is used as dua or wazifa for love.
Using Dua and Wazifa Allah has blessed you through them. You can achieve anything in your life. "YA WADOODO" can help you get love back love in your life. Love has many forms: the love of parents, siblings, your partner, or the person you love the most.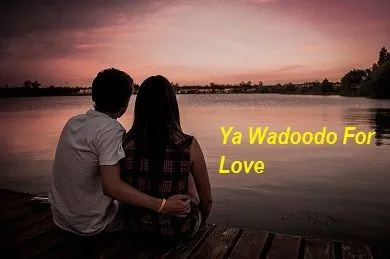 As previously mentioned, "YA WADOODO" means loving one, so this particular name of Allah can help you bring back love into your life. If your relationship with your lover is not going well, then you should remember Ya Wadoodo for love. No matter whether you want love from your parents, siblings, friends, or a special person, this name will help you in these situations.
To bring love back into your life, recite "YA WADOODO" 12500 times for 40 days. Pray to Allah (SWT) with pure intentions. You can recite this wazifa at any time after any namaz. It is not difficult to recite "YA WADOODO" for love. You can easily achieve your goal by doing so.

There are high chances of failing because of the inner thoughts you had while performing this wazifa. It can also happen because of unknown mistakes you made while performing this wazifa. Make sure you are doing wazifa for love, and you must not have any evil thoughts while reciting "YA WADOODO." Allah always listens to your duas, and if he doesn't fulfill your dua, he surely will reward you for your dua. Before making any dua, you should have faith in Allah (SWT) that he knows what is best for you. You should please Allah (SWT) with every decision and hope for the best.
Ya Wadoodo for Love between Husband and Wife
Marriage life is full of ups and downs. In most families, men or women in our culture have to make several compromises to make their marriage work. To have a good relationship between husband and wife, love, trust, understanding, and respect are required. If you have these factors in your relationship, then you are the happiest person in the world.
On the other hand, if husband and wife don't have a good relationship, then you'll see hell on earth. To strengthen the bond between both of you, just trust in Ya Wadoodo for love between husband and wife. First of all, both partners need to work on their relationship to make their love last.
Shohar and their wives need Duas to make their relationship stronger and to live their lives with joy and happiness, but sometimes they lose their relationship due to some problems in their lives. If your husband or wife is not listening to you, then you can put this thing on Allah Almighty and make the Dua, and with the help of the Dua, you will surely get the benefit.

Dua is the only weapon that can be the predominant response to every issue. You can recite "YA WADOODO" to create love between wife and husband. Recite "YA WADOODO". Blow it 12500 times into a glass of water for 11 days, then make your partner drink it on the 11th day. This will work best for you, and it will eliminate all problems in your married life.
Ya Wadoodo for Love Marriage
"YA WADOODO" is one of the powerful names of Allah. It has the power to make even wild animals obedient. It can help you in many rough situations with your partner, parents, siblings, and friends. Everyone falls in love at least once in his or her life and wants to get married and spend their life with the person they love. In our society, a love marriage is not considered as good as an arranged marriage.
If you really love the person, you should talk to your parents about him or her as soon as possible. It happens in our culture that parents mostly do not agree with our choice of girl or boy. If your parents are not agreeing with you after all your efforts, you should recite the phrase "Ya Wadoodo for love marriage". Islam has given you the right to choose your soulmate.

The Wazifa of "YA WADOODO" can help you in this situation, and through this, you can ask for help from Allah (SWT). Recite Surah Al-Fatiha 41 times after the prayer of Isha. After that, recite "YA WADOODU" 59 times and make Dua to Allah (SWT) for your aim. Recite Durood Shareef at the start and at the end. For the success of any wazifa, it is necessary to pray five times a day and make Dua with true intentions.
Ya Wadoodo wazifa for Lost love
Nowadays, relationships end because of many situations, or even if the relationship does not end, love disappears from the relationship. After a breakup, some people move on, but for some people, it is very difficult to forget the person and move on.
In this situation, you must take help from Ya Wadoodo wazifa for lost love back into your life. You just have to make wazifa for help. If the situation is not in your favor, pray to Allah almighty, and he will make things easy for you.

Pray five times a day and recite Quran-e-Pak as much as you can.
After offering the prayer, Isha recited Durood three thrice
Then recite "YA WADOODU," "YA RAOFO," and "YA RAHIMO," and make Dua to Allah (SWT) for your aim.

Recite Durood Shareef three times at the start and also at the end.
Do this wazifa every Thursday, and while performing this dua, think about the person you want back.
Ya wadoodo ka wazifa mohabbat ke liye
"Ya Wadoodo" is one of the 99 names of Allah and has special significance in Islamic spirituality. It is believed to bring immense blessings, increase love, and resolve any conflicts between married couples.

Here's how you can perform the "Ya Wadoodo" wazifa for increasing love in marriage:
Find a quiet place where you can perform the wazifa without any distractions.
Make sure you have performed wudu (ablution).
Recite Durood Shareef 11 times.
Recite "Ya Wadoodo" 100 times.
Again, recite Durood Shareef 11 times.
Make a sincere dua for increasing love and affection between you and your spouse.
Repeat the wazifa for at least 7 consecutive days.
It's important to note that the results of the wazifa may vary from person to person. Performing the wazifa with sincerity and belief in Allah's power can increase its effectiveness.

In addition to the "Ya Wadoodo" wazifa, there are other ways to increase love in marriage, such as:
Spending quality time together
Expressing gratitude towards each other
Avoiding negative behavior and words towards each other
Showing love and affection through actions and gestures
Forgiving and forgetting past mistakes
By implementing these simple tips, you can maintain a strong and loving relationship with your spouse.